about me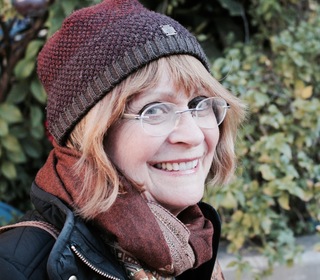 WHEN/​HOW DID YOU FIRST START WRITING?
I never imagined myself as being anything other than a writer! My first short story, written at age seven, was a ten-page fantasy called "Leo the Dragon." My mom was my first "agent," typing it up and sending it to children's magazines. I could often be found, leaky fountain pen in hand, dreaming up stories and writing them down. My dad read books and the Sunday funnies to me. The library was around the corner from my house and I spent hours losing myself inside books. I was fortunate to have teachers who encouraged me to write down all those stories bottled up inside my head, and numerous mentors along the way.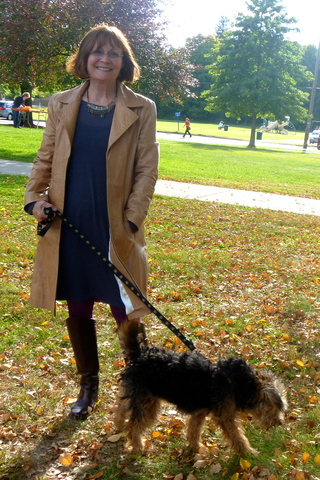 WHAT BOOKS FROM YOUR CHILDHOOD DID YOU PARTICULARLY ENJOY?
As a child I spent hours and hours with books! The Red, Yellow and Blue Fairy Tale books; Hans Christian Andersen's THE SNOW QUEEN; LITTLE WOMEN by Louisa May Alcott; PIPPI LONGSTOCKING by Astrid Lindgren; Madeleine L'Engle's A WRINKLE IN TIME; KNIGHT'S CASTLE, MAGIC BY THE LAKE and all of Edward Eager's time-travel books; Margot Benary-Isbert's THE WICKED ENCHANTMENT. Middle school: Shirley Jackson's THE HAUNTING OF HILL HOUSE, Daphne Du Maurier's REBECCA, and short stories by Edgar Allen Poe, Ray Bradbury and H. P. Lovecraft.
where do you find ideas & inspiration for your work?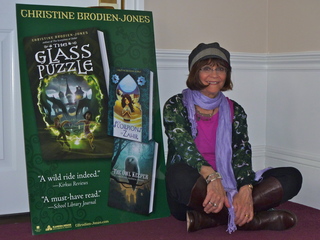 Ideas and inspirational nuggets fly into my head from everywhere, sparked by other books, films, travel, dreams, people met by chance, magazine and newspaper articles, overheard conversations, eccentric characters (dead or living), strange weather, myths, legends, landscapes, artwork and daydreams.
WHAT PEOPLE HAVE INFLUENCED YOUR WRITING?
My parents, who encouraged me to write; my Aunt Hazel, a librarian, who sent me the "classics" for birthdays and Christmas; and my elementary school teachers who sparked our imaginations and gave us free rein to write the stories, poems and plays we had bottled up inside us. I remember a particular high school English teacher with a huge walrus moustache, Mr. Rehor, who encouraged the unconventional.

As I grew older, other mentors came along: Emerson College Professor Dr. James Randall, children's authors/illustrators Pat Lowery Collins and Jo Ann Stover, my husband, sons and daughter-in-law, and the members of my long-standing critique group.
why did you decide to write children's books?
For nearly twenty years I wrote adult short stories, as well as newspaper and magazine articles. Two things happened to set me in another direction: reading stories out loud to my two young sons and a children's literature course I took in graduate school. It was then I rediscovered the astonishing world of children's books and decided to write the kinds of stories I loved as a child. My first published novel, THE DREAMKEEPERS (Macmillan/Bradbury Press), began as a short story written for the graduate school course.
WHAT JOBS HAVE YOU HELD? DO YOU PRESENTLY DO WORK OTHER THAN WRITING?
I've worked in the editorial departments at Elseviers (Amsterdam) and at Oxford University Press (London). I've also been a free-lance journalist/photographer, a special needs educator and an editor for Ebsco Publishing Company. Currently I write full-time in Gloucester. Peter and I also manage Hardy's Hill House, a summer rental house in Deer Isle, Maine.
WHAT ARE YOUR INTERESTS/FAVORITE PASTIMES?
Creative writing, travel, spending time with my family, reading novels, watching films, Cornish-gig rowing, hiking, kayaking, sailing, swimming, learning Spanish and tango in Argentina, listening to music, sharing good times with a few close friends.
can you talk a bit about your novel "the owl keeper"?
THE OWL KEEPER is set in the future when the government's reckless experiments with weather have caused a major climactic and social shift in the world. The totalitarian High Echelon keeps a close eye on the populace. All books except a few approved by the government are banned. Museums, libraries and universities have all been shut down.

At the heart of the story is Maxwell Unger. Max isn't your everyday capable all-American kid. He's a timid, sickly boy, very much alone, cut off from other kids because of a strange condition that makes him hypersensitive to the sun. But Max has a hidden strength deep within him and, when faced with impossible circumstances, he takes off on a quest that he doesn't completely understand. THE OWL KEEPER is a quest of hope, a story about friendship and overcoming one's deepest fears.

When the first chapter opens, Max's only friend is a lone silver owl. But one night a wild bossy girl appears out of nowhere. Rose is strong, opinionated and frightens him with her radical ideas. He's not sure if she's telling the truth, or whether or not he can trust her. But a shaky friendship develops and, over the course of the book, they're faced with threatening adults and even more sinister characters whose plans for controlling what's left of their world are almost in place.

I always knew that Max's story would be a journey. When his world falls apart he runs away, fleeing with Rose and his owl into the forest. On their journey north to the Frozen Zone, they encounter extreme challenges, including horrific creatures that the dark forces have sent after them. By the end of the story, Max and Rose are faced with discovering their own strengths and a certain responsibility to set the world right.

what inspired you to write "the owl keeper"?
I've always been drawn to the idea of what the world might be like in the future. "On the Beach," a 1950s film about the world after a nuclear explosion, had a profound effect on me when I was young, along with John Wyndham's novel THE CHRYSALIDS. I also remember taking a course with Stephen King and listening to him read from THE STAND, his post-apocalyptic work-in-progress.

When I started writing THE OWL KEEPER in November 2001, just after 9/11, the world felt dark and bleak. I wanted to write a story about hope. I began to imagine a lone boy in a forest, standing beneath a tree, looking up at an owl. I knew the boy loved the dark, and the forest, but he was afraid. Why? What was he doing there? I was drawn to the mystery surrounding the boy, the owl and the forest.

Max, the unlikely hero of this book, has an aversion to sunlight, yet he carries a special light inside him. I was influenced by a New York Times article about children who're unable to tolerate ultraviolet light; I'd also seen a film called "The Others," a Gothic tale about a brother and sister who are fatally allergic to sunlight. The basis for the High Echelon goes back to my experience living in Spain under the dictator Francisco Franco.

Six years and several revisions later, the book landed in the hands of my agent, Stephen Fraser of The Jennifer De Chiara Literary Agency, who sold THE OWL KEEPER to Random House. More rewrites followed under the expert guidance of editor Krista Marino.

I'm incredibly fortunate to have Steve, Krista and Krista Vitola, my editor for "The Scorpions of Zahir" and "The Glass Puzzle."
Any advice for young writers?
To paraphrase British crime author Ian Rankin: read lots, write lots, learn to be self-critical and what criticism to accept, be persistent, have a story worth telling, don't give up.

My advice is to write every day. Keep a notebook/journal to record moments, overheard conversations, fleeting impressions and emotions. Open your mind to new experiences. Be passionate about what you write. Trust your reader; not everything has to be explained. Respect your characters, even minor ones. Write honestly. Believe in your creativity.